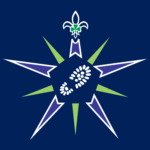 The Chief Scout Award is an award to help Youth Members in their personal journey through scouting. It is a challenge that requires young people to complete a number of Special Interest Badges, advance in the Adventure Skills, complete an expedition and experience an intercultural engagement. For the older sections of the ONE Programme (Scouts, Venture Scouts and Rover Scouts), the Chief Scout Award is linked to the International Award in the form of Gaisce – The President's Award (Ireland) and the Duke of Edinburgh Award (UK).
The Chief Scout Award has seven elements:
Four Special Interest Badges: Skills, Physical, Community and Environment

Scout Skills: Advancement in Adventure Skills

An Expedition

A Residential/Intercultural Activity
The Chief Scout Award is about personal development. It, like all other challenges in scouting, is centred on assisting the self-development of the young person. Each Scout must be in control of their own journey; and they, with the help of a Scouter, choose the individual tasks and challenges that will help them make progress towards the Award.
The Chief Scout Award is designed in such a way that a Youth Member (Scouts, Venture Scouts and Rover Scouts only) will complete their Chief Scout Award and Gaisce/DoE concurrently.